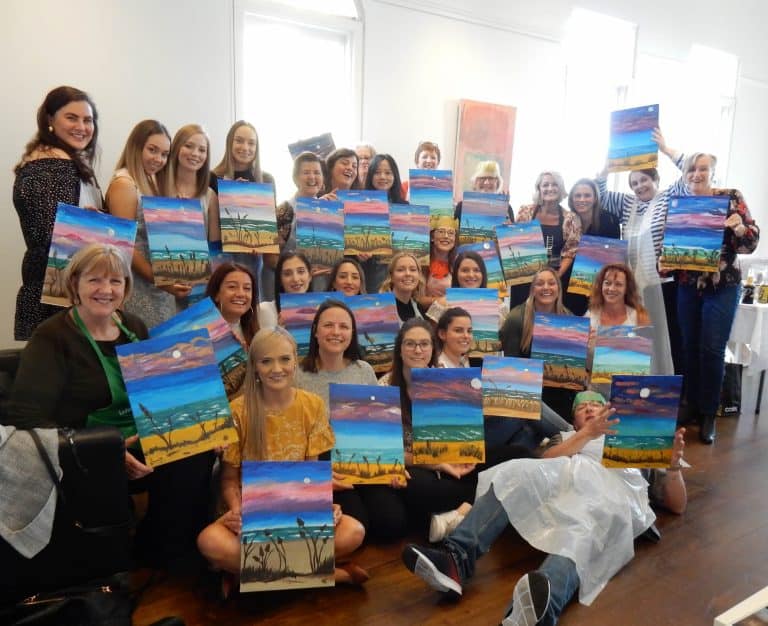 Book Your Team Building or Social Party With Us!
Why Book a Painting Party?
Your time on earth is fleeting. Throwing a group paint party in our studio is a great way to bring all your pals together and have fun. Hosting a group painting party sends the message that you care about your colleagues, friends, family, and loved ones. At Ladder Art Space, we help you not only to plan ahead for your group painting party and but also to have a good time in our studio. Our step-by-step guide is designed to transform your painting party from drab to fab.
You don't need to worry about the supplies you will need for your group painting party. Our studio is spacious enough to accommodate your friends and well-equipped with all the artwork and painting tools to make your group painting party fun. 

Contact us today for a team-building event, birthday party, bachelorette party, group painting party, baby shower, sorority party, retirement party, or any occasion you have in mind.

Submit a request for your Private Party by filling out the form below. We will contact you in up to 2 business days.
Requirements of a private party
For adult parties, all guests must be 18 or older with a valid ID.  Cost: $45  per person for 2 hours workshop (please add extra $10 per person for 3 hours sessions)
Cost for 3 hours Paint Your Pet and Portrait Painting session: $65 per person

For children parties, all guests must be 7 or older. Cost: $40 per person for 1.5 hours workshop

$150 refundable deposit to hold the time slot.

Minimum number of guests must be paid at least 5 days before the party.

Studio 1 can accommodate a maximum of 19 guests.*

Studio 2 can accommodate a maximum of 14 guests.*
*At the same time, we can accommodate up to 19  participants in Studio1 and up to 14  in Studio2 with two instructors.
When the two studios are booked for the same event, we offer our Gallery3 (in the middle of the two studios),  depending on space availability, and 30 min extra time for free, so G3 could potentially be used for serving drinks and refreshments. Please see the plan area at the bottom of this page.
If you are more than 19 and wish to be in the same room we can organize another space for an extra cost.

The minimum number required for a private party is as follows:
Friday evenings and anytime on Saturday and Sunday, Studio1: 15 guests

Friday evenings and anytime on Saturday and Sunday, Studio2: 10 guests

All other times, Studio1: 10 guests 

All other times, Studio2: 8 guests 

All times, Studio1 & Studio2: 25 guests 

All times, Paint Your Pet: 10 guests
 *If the minimum is not met, the difference between the minimum and the number of guests attending must be paid before the party can take place.
Cancellation Policy
The host of the party can secure a reservation with a $150 refundable deposit. ($300 deposit is required for booking S1  & S2 for the same event)
There is a 15 days cancellation policy. If less than a 15 days notice of cancellation is given, the $150 deposit will not be refunded. 
COVID-19 Cancellations:
If the Government requires our studios to remain closed at the time of your session, we will issue you a full refund (or credit voucher valid for 3 years, if you prefer).
How do I reserve and pay for my party?
Once the private party has been booked and the deposit made, we will send you a link to our library so that you can select a painting.  The host/hostess can then pay with one payment for the party, at least 5 days before the party.
Private Party Availability
Please email [email protected] for availability or fill the form below and we'll get back to you in up to 2 business days. (please check your spam)
Please contact us at [email protected] , to order a grazing table for your party.
When you order the table, we offer G3 and 30 min extra time for free (depending on space availability). So G3 could potentially be used for serving drinks and refreshments.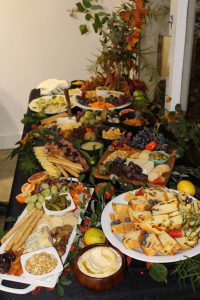 Benefits of a private party
You select your own masterpiece to paint from our collection. A link will be emailed to you so that you can choose your painting!

You can schedule your party any day of the week, space permitting. We have morning, afternoon and evening slots available.

No setup, no cleanup – just show up!

We provide all of the art supplies.

Guests may bring drink, snacks or food ***, or order a refreshment table (photos in below)


***Please note that we might not have not enough space for a separate food table in the studio. Please contact us for more info.
We will begin painting at the time scheduled, so ask your guests to arrive promptly at party start time. 
Private parties have a 15 minute grace period before the painting start time and 15 minute grace period at the painting end time. The grace period is designated for, but is not limited to, set-up, breakdown, food and beverage staging, check-in and socializing.  
A party exceeding the end time is subject to a service charge of $75.00 and an additional $75.00 for each additional hour over party end time.  Party extensions are based on the availability of space and management discretion. 
Deposits are refunded at the end of the party, once ALL terms have been met.
We offer private parties for any occasion!
Birthday parties. There is no perfect way to make your birthday party special than inviting your family and friends in the studio to paint any artwork they like from our library. Remember to bring your favorite drink and nibbles to spice the painting with laughter. Or you can order our beautiful grazing table. Images in below.
Bachelorette parties. Looking for ideas for your bachelorette party? Ladder Art Space has lots of painting themes that will inspire you to explore your creative side. Bring your girlfriends along to enjoy the night.
Baby showers. Celebrating your newborn baby is a great reason to gather your loved ones around for painting and reduce the anxiety of parenthood. With our step-by-step guide, you are guaranteed to enjoy every moment of painting your masterpiece in our studio while your family and friends poke fun at you.
Sorority parties. Organizing a sorority party can be quite daunting if you don't have great ideas to entertain your sisters. Don't let that weigh you down. By organizing a painting party in our studio, you can create a bond of sisterhood and help members to discover their hidden painting skills.
Church group outings. Many people don't like showing up for church group outings. This is because they erroneously believe that church group outings are boring. You can prove them wrong by inviting them to our studio to paint Biblical images on canvas.
Field trips. No one wants a boring field trip. Our studio is the right destination to make your field trips memorable and meaningful. Just bring your favorite drink and nibbles, and music along. We will take care of the rest for you.
Retirement parties. At last, you don't need to wake up early in the morning to get to work. With a retirement paint party, we bet you will be amazed at your proficiency in painting on canvas.
Team Building. Teams that like each other work better together! Build mateship among colleagues and have colourful synergies at the same time in our studio, which can host up to 30 people… or if you prefer to produce your deliverables in-house, we can come to your office or conference location instead.