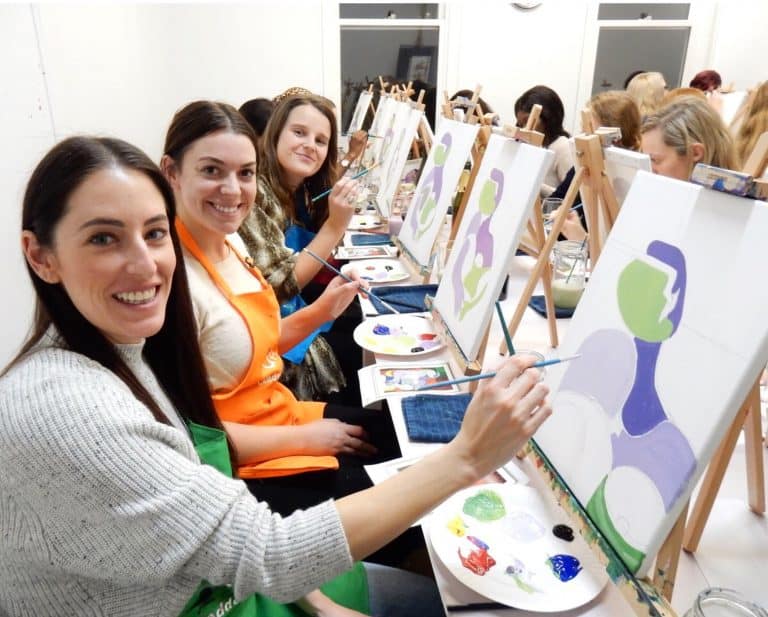 Night Out for Girls:
Show Up, Paint, Sip, and Celebrate
Looking for where you can implement your great ideas for girls' night out? You can never go wrong with our cheerful atmosphere and art supplies. We'll provide all the detailed instructions you need for your painting parties so that you can laugh and spend nice time with friends and loved ones.
Perfect Girls' Night Out
You've waited so long for this girls' night out. Now is the time for you to live in the moment and enjoy good painting with the people you love. Don't worry about cleaning up the surroundings when you are done painting your masterpiece. We'll take care of everything for you. Fill out the form below and book a girls' night out in our studio.
Are you interested in any of the upcoming events on our calendar? We've got you covered. Free your mind, sip your favourite drink, eat your best snack, and dance to your top music while our enthusiastic local artists guide you on how to paint your own personal masterpiece. Pick the date of your girls' night out to get started.
Interesting Things about Girl's Night Out Paint and Sip Events
A girls' night out gives you the opportunity to enjoy your favourite drink and express yourself in creative ways. At Ladder Art Space, we'll transform your night party dreams into reality. We'll also provide you with an ambience of relaxed elegance where you can sip your best drink, share your dreams, and paint your own masterpiece. With our painting supplies and detailed instructions, you are guaranteed to experience a unique and spectacular girls' night out.
Our booking process is super-easy. Select the date of your event, invite your friends and bring your favourite snacks and beverages along. Regardless of how you want to use our studio, we will meet your needs and exceed your expectations. Don't procrastinate. Complete the above form and book your event date with us!
What Do You Want to Paint at a Girls' Night Out?
At Ladder Art Space, you can hardly run out of girls' night out ideas. We have more than 50 pieces of interesting art in our library. This means you can pick any image you want to paint from our artwork collections to enjoy your girls' night out. Whether you want to paint images of animals, plants, landscapes, fabrics or objects, we've got you covered. Just imagine the experience of using one of your hands to paint an image chosen by you and the other hand to sip your favourite drink. Isn't it amazing? Sure, it is!
Why Should You Visit Ladder Art Space for a Girls' Night Out?
The world we live in today is full of stress. You hardly have time for yourself, let alone have fun with the people you love. It is not unusual that you feel burnt out due to work assignments, school demands, or family errands. Stop overanalysing. This is time to make yourself look healthy. There is no better way to unwind and recharge your energy than inviting your friends for a girls' night out.
Do you need a destination for a girls' night out? It's very easy. Ladder Art Space offers a perfect, serene destination for paint and sip parties. Take your next ladies' night from drab to fab and remember to book our studio today to host all your buddies.
What If I Can't Paint?
It doesn't matter whether you are mediocre artists. In fact, the vast majority of our visitors have little or no painting experience. The most important thing is that during the painting parties, you have a memorable experience having fun with your friends and loved ones.
At Ladder Art Space, we are much more concerned about your experience than about your painting skills. That's why we've designed our studio in such a way that the process of painting images is memorable and packed with fun and excitement. Give it a try. Who knows – you may discover your painting talent and become the next Pablo Picasso of our generation.
How to Sign Up for a Paint and Sip Girl's Night Out at Ladder Art Space?
A happier life begins with doing what you love. At Ladder Art Space, we help you to create a memorable experience through fun art. By allowing you to paint varieties of images and sip your favourite drinks during girls' night out, we uproot all the stress lurking around your body.
Visit and book our studio today to enjoy a paint and sip girl's night out.